When Brenda asked Facebook what books Game Designers should read, the results were eye-opening. Compiled here, with links, so that your wallet can hurt as much as mine.
TITLE
RECS
NOTES
Homo Ludens
1
Games & Culture
Understanding Comics: The Invisible Art
2
Visual Arts, Psychology
Theory of Fun
2
Game Design, Psychology
You
Game Fiction
Graphic Storytelling and Visual Narrative
2
Visual Arts
REAMDE
Game Fiction
Ready Player One
1
Game Fiction
Medium is the Massage
Artistic Mediums
House of Leaves
1
Universal Design
Story
1
Storytelling, Screenwriting
Flow: The Psychology of Optimal Experience
2
Psychology
The Power of Habit
Behavior Design
How the Mind Works
Psychology
Predictably Irrational
1
Psychology
The Open Work
1
Artistic Craft
Convergence Culture
New Media & Culture
Community Building on the Web
Community
The Design of Everyday Things
9
Universal Design
Emotional Design
2
Affective Design
The Shape of Design
Universal Design
A Pattern Language
2
Universal Design, Architecture
Deep Play: Notes on the Balinese Cockfight
Play
Thinking, Fast and Slow
Psychology
Glued to Games
Psychology, Engagement
The Paradox of Choice
Psychology
Film Directing: Shot by Shot
1
Cinematography
Universal Principles of Design
Universal Design
Freakonomics
Psychology, Behavior Design
Normal Accidents
Technology & Society
System Effects
Systems Design
The Language of New Media
New Media
Man, Play and Games
2
Games & Society
Play
Psychology, Culture
Game Feel
3
Game Design
Dieter Rams: As Little Design as Possible
1
Universal Design, History
Extra Lives: Why Video Games Matter
Game Design, Game History
The Dramatic Imagination
1
Theatre
A Book of Lenses
2
Game Design
Designing Virtual Worlds
Virtual Worlds
The Illusion of Life: Disney Animation
Animation
Trigger Happy
Comparative Entertainment
Oxford History of Board Games
Game History, Game Design
Science of Human Nature
Psychology
A Whole New Mind
Psychology, Creativity
Masters of Doom
1
Game Industry History
The Tao of Pooh
Team Management
99 Ways to Tell a Story: Exercises in Style
Storytelling
Space, Time, Play
Virtual Spaces, Architecture
Moneyball
Free To Play
Amusing Ourselves to Death
Entertainment & Society
Zen and the Art of Motorcycle Maintenance
Fiction, Values
The Tipping Point
Virality in Culture
Comics and Sequential Art
Visual Arts
Maus
Subject Matter
Maus II
Subject Matter
Architecture: Form, Space, and Order
Architecture
Emergence
Emergent Systems
The Design of Future Things
Technology Design
How to Win Friends and Influence People
Communication, Game Industry
Critical Play
Serious Game Design
The Complete Wargame Handbook
Game Design
A Director Prepares: Seven Essays on Art and Theatre
Theatre
A Mathematical Theory of Communication
Communication
The Man Who Lied to His Laptop
Technology & Society
Statistics for Dummies
1
Statistics
Surely You're Joking, Mr. Feynman!
Autobiography
Impro: Improvisation and Theatre
Theatre, Improv
The Game Designer's Bookshelf
Additional Resources
Hero with a Thousand Faces
Storytelling
Godel Escher Bach
Systems Thinking
Snow Crash
Game Fiction
The Electronic Eye: The Rise of a Surveillance Society
Technology & Society
In Pursuit of Elegance
Ideas, Expressive Art
The Soul of a New Machine
Technology & Culture
Art as Experience
Esp. Ch3: Having an Experience
Thinking in Systems: A Primer
Systems Thinking
Leverage Points: Places to Intervene in a System
Systems Design
Videogames of the Oppressed
Serious Games, Society
The Game Design Reader
Game Design
Human Values and the Design of Computer Technology
First Person: New Media as Story, Performance, and Game
New Media
Rules of Play
Game Design
Gender Inclusive Game Design
Diversity in Games
Half Real
Game Design
Simulation versus Narrative: Introduction to Ludology
Twisty Little Passages
Interactive Fiction
Game Over
Game Industry History
The Ultimate History of Video Games
Game History
The Reverse Design Project
Game History
Supercade: A Visual History of the Videogame Age 1971-1984
Game History
1001 Video Games You Must Play Before You Die
Game History
Killing Monsters
Game Violence
Congressional Testimony on Media Violence
Game Violence
The War Between Effects and Meaning
Game Violence
Lucky Wander Boy
Game Fiction
Damn Good Advice
For Independent Creatives
The Well-Played Game
Play, Philosophy
Poetics
Storytelling
User Centered Design
Beautiful Evidence
Information Visualization
Visual Explanations
Information Visualization
The Visual Display of Quantitative Information
Information Visualization
The Origins of Architectural Pleasure
Architecture
Chambers for a Memory Palace
Architecture
The Animator's Survival Kit
Animation
Traffic
Emergent Systems
Influence: The Psychology of Persuasion
Psychology, Persuasion
Made to Stick
Communication, Marketing
Good to Great
Business
The Study of Games
Supercrunchers
Data
The Denial of Death
Existentialism
Everything Bad is Good For You
Popular Culture
Bird by Bird
Writing
A Brief Tour of Human Consciousness
Psychology
The Mind's I
Philosophy, Ontology
My Tiny Life
Virtual Communities
Play Money
Virtual Economy Hacks
What Else?
I'll continue updating based on responses to the post and comments here. What do you love? What's missing?
Last year, IndieCade felt like an ode to the inspired artist. We talked in tiny bubbles about specific games, upcoming instances, or the highest level global trends. We knew we were important, but we still weren't quite taking ourselves seriously, or maybe we just hadn't learned how to. We were a jenky, diverse group trying to find cohesion and direction – from the awards ceremony to the conference to the festival floor.
This year, across all levels, that changed. This year, IndieCade wasn't an ode – it was a call to action. This year indies staked out their place in the collective history of art, technology, expression, and politics. We weren't just diverse – we were championing diversity, inclusion, and the variety of perspectives necessary to make great works of art. And most importantly, we were reminded that what we were doing isn't the norm. We are, willingly or unwillingly, revolutionaries.
CRITICAL
The critical element was most boldly marked by the three IndieCade keynotes: two discussions between very different but equally vital forefathers of our industry, and an overarching history lesson of the people responsible for our current, humble movement.
John Romero interviewed Steve Russell, who coded the first ever shmup, Spacewar, on a PDP-1 in 1962. Listening to Steve Russell talk about punch cards, sine algorithms, and 1 KB memory was a valuable lesson for the greener indies at the conference: we didn't emerge from nothing, and we don't exist in a void. We have a rich and powerful history.
Eric Zimmerman interviewed Bernie DeKoven (whom I recognized as Mr. Fun), one of the founders of the New Games Movement in the sixties and author of The Well-Played Game, a piece on the philosophy and psychology of playing and game-playing. Bernie talked about the inherent paradox we all work within: the difference between play – driven by autonomy, curiosity, exploration – and game-playing – fueled by strategy, determination, rules. He showed the power of putting play into the player's hands – by making us all improvise a performance variant of rock paper scissors. He proved that while the trend today is towards giving players a line of cookies and hoping they follow it – that's really nothing near the underlying psychology of play.
Finally, Mary Flanagan gave an impressive quick-hit history lesson of 7 phenomenal people who in one way or another had a powerful effect on our industry. Starting with Joseph Marie Jacquard, who created the first punch-card-reading machine (a loom for art) and ending in fact with Steve Russell and Bernie DeKoven. She made a point of including the queer, the technological, the artsy, the revolutionary. This is our history to own.
Many other talks contributed to this sense of elevating indie games: giving them a history, giving them a vocabulary to analyze and reflect upon themselves. Bennet Foddy discussed the power of pain (challenge, frustration, difficulty) and its addictive and necessary qualities for engagement. A brilliant panel including Amy Hennig, Jenova Chen, Ian Dallas, and Dan Pinchbeck went deep into the philosophy and trial and error of experiential games, echoing much of Bernie's philosophy on the play element in games.
INCLUSIVE
At the end of a year marked by appalling sexism, unsafe conferences, and unbelievable affronts to women's rights, IndieCade felt like a haven. This isn't coincidental. It was purposeful and apparent that the organizers supported a safe space, and that those who showed were invested in maintaining it. There were women on every panel, audiences that weren't the typical 90/10 m/f split. There were people of color, transgender speakers, participants that IndieCade sponsored because they didn't have the finances to go on their own dime. This IndieCade was about voices being heard, and those voices had so much to offer.
Anna Anthropy was at the forefront, making the entire audience repeat: queer games are important. Queer games are important. For so long it's been the same people making games for themselves – the same straight white male perspective being shipped to a world of different people. Queer games – used more broadly than just games with LGBT themes – diversify and enrich the dazzling sphere that is indie games. Queer games are important. New voices are important. Different voices are important.
Mattie Brice interviewed Christine Love about Analogue: A Hate Story – a proudly feminist game that used an empathic approach to creating realistic characters that illustrate, if not comment on, women's issues. Celia Pearce joined Akira Thompson, Megan Gaiser and Anna to discuss diversity and inclusion in the industry. Megan passionately declared that we not only have the ability, but the responsibility to take action. We need to create safe spaces. We need to amplify voices too often talked over, silenced, or ignored. We need to embrace, encourage, and embody diversity.
And we did. We are. This is our community, and we've created an inspiring kaleidoscope of invaluable viewpoints, varied perspectives, and powerful histories.
REVOLUTIONARY
Bernie DeKoven said, of the sixties, that all play was revolutionary. Playing, in public spaces – in public spaces together – was subversive, subtly defiant, even dangerous. To play is to toy with systems, to learn cause and effect, to understand. Play implies agency and autonomy, the capacity to act and affect outcomes. It is the ability to make change.
Johannes Grenzfurthner and Molleindustrias' Paolo Pedercini said play, and games, continue to be tools of the revolution. They are seductive, persuasive, and powerful. They are not instrumental to change, but inherently transformative. It is the nature of a game to change a player.
The question then became: what are you changing? How are you using this power? What are you saying with your voice? – because we all have one now, because game making has reached the commons, because anyone with any will now has a way.
Don't just do the same. Don't be derivative. Don't create selfishly. Create for the future, for the community, for the unheard or ignored. Create with intent. Create to change something, to be someone, to make a difference. We're all of us capable now.
We're all of us responsible now.
THANK YOU
It was a weekend of empowerment. We learned the past, glimpsed the future, and celebrated the present. To all those who shared the weekend with me, and moreso those who made it possible:
thank you.
A starscape glittered on a suspended screen, the projector mingling with twilight at the edge of IndieCade Village. Red, jittery, chaotic spots flicked alive one by one, until dozens of laser pointers fritzed across and beyond the projection- onto palm trees, trash cans, people's faces.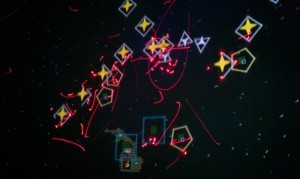 The Hokku
An old school computerized voice called us to action – most definitely us, even though I didn't have a pointer, even if I couldn't touch the screen. From the very beginning, I, the observer, the inquisitive designer on the sidelines, was drawn into the shared experience.
It started with bright geometric shapes slowly rotating in space, unwound and destroyed when there was at least one laser pointer on each vertex. Red lights flit everywhere, darting and twitching in tiny circles as players fought to discern their pointer from over fifty others. I held my breath as the shapes started to disappear, grinned when a static pop and particle effects signaled success.
These first exercises in coordinated laser pointing were, as the cheeky computer voice told us, not even the beginning of the end. After this abstract tutorial, the real game started.
The Waki and Daisan
Renga is aptly named after a Japanese style of collaborative poetry, and mimics its structure. After an initial stanza, the Hokku, two stanza styles alternate repeatedly ad nauseum.
Renga's first phase involves collecting floating blocks from space while defending from antagonistic geometries. The second is using the collected blocks to build out a spaceship. The spaceship has three elements: Silos to store blocks, Harvesters to go out into space and fetch them, and Launch Boosters, all four of which are required to battle the final boss.
Our initial harvesting missions were… a bit pathetic, as emphasized by the computer's "Oh dear, oh dear, oh dear." Enormous spoke-monsters appeared and before we'd halfway depleted them they'd lurch at our ship and destroy our harvesters. People were unsure whether to use their pointer to unlock the floating blocks, move the harvester to collect them, or focus on the encroaching enemies. Similarly, the first time we were building up our ship (done by holding a laser pointer still in a certain location to "vote" for where you think a block should be placed) the line connecting us to the Launch Booster we wanted was two blocks thick, jagged, with wasted blocks everywhere. We were a mess.
Then the next round began, and the next, and the lines between our ship elements got more and more precise. We were better able to handle those aggravatingly random and aggressive monsters. We realized that keeping our harvesters closer to our silos saved time. 10, 20, 30 minutes passed. The crowd grew, oozed out onto the sidewalks, collected passersby. I had no pointer, but I cheered, gasped, hollered, and felt so much a part of the experience it made no difference. The moments belonged to all of us, actors, observers, and otherwise.
The Ichiza
Those with laser pointers shook out their hands before the initial vote on whether or not to fight the final boss. We'd unlocked all of our Launch Boosters, but our blocky exterior had a hole in it and we were just finally figuring out how to strategize as a collective.
"What a bunch of cowards," the computer said as we voted for another round of harvesting and building. It was the most difficult round yet, but we came out of it with more resources than we'd ever had before. We reinforced our walls, filled in the holes, and when the next vote came, the majority agreed: it was time for the final boss.
We'd been annihilated by the boss at the end of the tutorial, and tension tightened up the air as we held our collective breath.
The Ageku
It was chaos, but this time we knew how to deal with it. Little teams of five went off to tackle the spoke monsters, while the majority mass swarmed the boss from the inside out, destroying continuously larger geometries, each with more vertices than the last.
Two circles – the largest – remained of the boss, with 45 and 50 vertices respectively, by estimation. They rotated faster than any of the previous geometries, and were slowly moving across screen, forcing our ship (which was now controlled by just a few lone laser points) into a corner.
"Everyone on the boss!" came shouts, as we slowly realized we didn't have enough pointers to attack both the small enemies and the boss. Little red lights tracked back across the screen and fell into line around the perimeter of the circle. I'm not sure I breathed as its life depleted, and then that static WHUFF and it was gone, and we were cheering, and the next one went that much faster.
Red pointers made circles, whirls, and joyful streaks as the computer voice congratulated us. I was clapping furiously and whooping along with everyone around me, who'd sat enraptured for the better part of an hour because this was something special, something spiritual, something sacred.
The Henka
We hear about mob mentality and think humans fall apart and disintegrate in large numbers. We think they become thoughtless, angry, stupid. But here, without a leader, without any chance to form strategy, without any plan or pretense, over a hundred people not only worked together, but got better. The same way an individual's skill improved, this collective's ability visibly, markedly increased over time. It wasn't chaos, it wasn't stupid, it wasn't random. It was beautiful.
Renga ended and I wasn't sure what had happened. I knew in that soul-deep way that it was important, that it had changed me, and that it was unforgettable not in a puppy-love sense but in that truly transformational capacity. I knew that it had, in a single hour, kicked the field of game design ahead by leaps and bounds. I felt it had seeded the potential for stadiums of people to be as engaged as football fanatics over a team of strangers all building, fighting, defending together. I felt an overwhelming sense of gratitude to the developers, to the game master, to everyone around me who made the experience what it was.
Few games deserve the word sacred, none as much as Renga.
A year ago I started a series of posts about Project Aurora – an experimental iPad game I was making with a group of students and the amazing artist Kim Koskamp.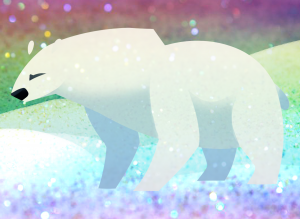 The Breakdown
It started brilliantly – we had unique concept art, a strong design direction, and a diverse team of programmers. But two months in, my posts went dark – and so did the project.
I was in the middle of writing about project management, highlighting communication as the make-or-break quality of a team. At the same time, it became our team's biggest weakness: emails went unanswered, and the developers were rarely available to talk synchronously, whether by phone, skype, AIM, or gchat. The semester ended and we had a beta version, but no enthusiasm to carry through, polish and release it to the app store.
I had failed.
But there was one person for whom I had failed more than any other, and that was Kim.
The Backstory
When I was scouting for an artist, I emphasized and re-emphasized accountability: this was a project other people were getting graded on, that we couldn't up and disappear, no matter the friction. If you were in, you were in until the end. I kept worrying about the artist flaking, oblivious to the fact that it could go both ways.
So Kim poured her heart and soul into this project. She does this with most of her work; she's a truly inspirational artist, dedicated against all odds. When faced with an enormous challenge – she'd never done art for a game before, much less animation – she buckled down and for the project's entire three month roadmap was continuously iterating, improving, and learning new techniques to ensure what she delivered was the best it could possibly be. For a project we knew from the start was going to make very little money – if any – she worked harder than most salaried employees.
So when the end came, and I had nothing for her – not a playable demo, not a published game, not even an alpha version that was accessible to her – I knew I'd let down Kim more than anyone.
And that was something I couldn't really handle.
The Secret
For the past several months, I stole odd hours here and there to redesign Aurora for the web. I knew I didn't have the ability to create it for iPad, and for once I wanted to be in control of all the variables. Because Aurora was so fundamentally tied to touch and gesture, the design had to be gutted. We kept the art, but the mechanics were redesigned from scratch.
Michael Molinari, with whom I've worked on several game jam projects (<3), volunteered to get the game running in Flash, and we batted ideas back and forth, and chewed our nails over a timeline, and finally came up with a simple concept we could create in a few months that would do justice to the original experience.
It was hard not to tweet, share or screenshot the progress for the past several months, but now we finally get to put it out in the world:
The Surprise
Kim, this is for you! Failing might phase you, but it never stops you. You hit walls and find ways to leap over, dig under, or just barrel right through them. You are an incredible person, a brilliant friend, and one of the best people I've ever worked with. Thank you for being you, and sharing so much of yourself with others. You put your heart and soul into this project, and I hope at least some of that's honored with this version:


www.alone-in-the-light.com
Something strange is happening in the city of San Francisco. We've all seen the dancing bag from American Beauty – or witnessed a stray plastic bag blown about by eddies. But now it's not just once in a blue moon, it's every day – every hour – and the bags are starting to move together.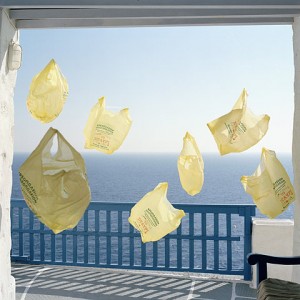 You can help by reporting strange bag behavior to the #BagsAlive hashtag, and working with leading zoologist Elizabeth Anderson – to help analyze this increasingly strange phenomenon.
What sort of behavior should you report?
- Bags that seem to be tracking, following, or stalking you
- Bags that move against the wind, or move freely without wind
- Two or more bags moving together in synchrony
- Large quantities of plastic bags, still or moving
- Bags exhibiting animal behavior – such as roosting, hunting, or protecting territory
[[This is a one day transmedia project for the #TransmediaJam SF - thanks for playing!]]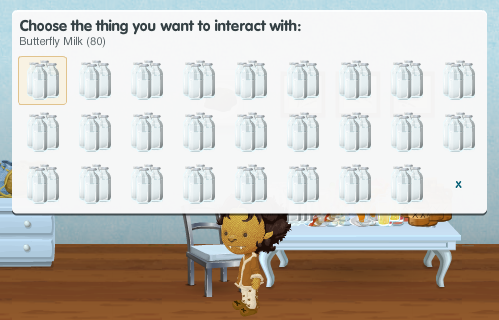 I don't work for Tiny Speck. I just love Glitch.
Here's why, and what everyone can learn from it.
ACCESSIBLE VS SIMPLE
Glitch is an open world MMO in disguise. Everything happens on 'streets' and for a long time you don't realize that all of those streets are connected in giant webs of territories across several continents. When you do, you get this wonderful scale shift moment – an instant of abrupt comprehension when your perception of the world suddenly expands by orders of magnitude.
It is vast, but you don't feel overwhelmed. You consume the world in bite sized chunks (there's even GPS directions to wherever you need to go) that make you hungry for more. Glitch takes the complexity of WoW and makes it easily digestible to casual players. You don't need to make simple systems for casual users – you just need to make complex systems accessible. Introduce small pieces. Don't overwhelm players. Enable them to discover more.
EARN YOUR FUN
Things in Glitch feel valuable because you have to invest in them. By making you earn teleportation instead of giving it to you, Tiny Speck makes teleporting more fun, exciting, and satisfying. Challenges are compelling. Use challenges to imbue value in an experience.
PUNISHMENT VS OPPORTUNITY
Glitch doesn't have open loop mechanics that punish you for not coming back on time (this is a common retention tactic). Crops don't wilt, piggies don't starve, items don't disappear. The only thing you lose by not coming back is opportunity.
And in fact, Glitch's skill-learning mechanic makes it OK to go out and live your life. Learning skills takes a certain amount of real-world time – from half an hour to the majority of a month. I can go do something else with my life and still be making progress just by passively using the time to learn. But then I'm adamant about returning when I can start to learn the next one. The faster I can learn the skills – the sooner I can start using them.
Make players want to come back, not need to come back. It's the difference between "I have to get back or I'm going to fail" and "Everything is fine, but if I go back I can do even better". Obligation is not a good experience.
FRACTAL GAME DESIGN
I'm doing an entire post on fractal game design, but the core is repeating patterns at different scales. In Glitch, crafting exemplifies this. The best items require exponential quantities of parts and pieces, multiple machines, and loads of time and effort. Here's just one example:
To make one Storage Display Box (SDB), you need 4 boards, 8 snails, and 2 metal rods. You also need a Construction Tool to put it together, 40 energy to use the Construction Tool, and the skill Furniture-Making II. And that's just the top level.
To get a board, you need 4 planks, a Woodworker machine, energy to use the machine, a Fuel Cell to power the machine, and the Woodworking skill to use the machine. To get a Fuel Cell you need 2 White Gas, 8 Blocks of Peat, and 12 Clumps of Jellisac (and a Fuelmaker machine, the Fuelmaker skill, energy to use the Fuelmaker…. and a Fuel Cell to power the Fuelmaker).
Suffice it to say listing out every single item needed for every step of the process would take up this entire article.
If it takes that much work – how can this possibly be a good thing?
Because you can start small, and start fast.
Along the same lines as the quick to learn, difficult to master adage, it is incredibly easy to craft something like Butter (just use 2 energy to shake Butterfly Milk) – but over time you can get new recipes, new machines, and new skills to make bigger, better, more wondrous things.
And no matter how much time you have, there's something to accomplish. If you have 30 seconds, you can still make a few planks. If you have a week, you can create an SDB for every item in your inventory.
In a way, it's also a dynamic difficulty system. There's something for everyone, regardless of the skill level you're at. You can always challenge yourself, and you can always pick at a few low hanging fruit, too.
SOCIAL – NO REALLY!
People prefer collaboration to competition 3:1, and everything about Glitch honors that desire to work together instead of engaging in zero sum endeavors.
So how did they get away with so little competition in a giant MMO? Besides eliminating any sense of PvP, it helps that Glitch doesn't have a singular goal. It's not "do this and win". There's no system to break or cheat or take advantage of so you can be the best. Without that ability to compare progress towards a fixed target, competition is moot. You can't weigh my stash of butterfly milk against your Transcendental Radiation II skill. You're not "better" in Glitch – you're just different.
But it's not just minimizing competition – it's facilitating collaboration.

Collaboration is incentivized in most core Glitch activities. You get bonuses for mining together, harvesting together, and scraping barnacles together. It isn't for friending people, for sending them invites, for getting them to click a link – it's for working together with another human being in real time. That is social. It's social presence, it triggers emotions like gratitude (reverence for something given: service, item, or otherwise), and it fosters a positive, goal-oriented community. The optimal strategy is to work together.
There are so many other ways Glitch lets you play together: projects (everyone working together + contributing items and unique skills), parties (buy them from vendors and everyone can add money to the time the party room is available), and house-sharing (let other people have keys to your house, so they can help harvest resources + leave presents). But I think you get the gist.
PAY TO HAVE MORE FUN
Few games pull off Free To Play models without tainting the experience. Glitch does. Here's how:
1) I never feel pressured to pay. I can play as long as I want, do as much as I want, without ever running into a pay wall. Nothing in the game is restricted based on my wallet. I'm not bombarded with pop-ups or pay prompts. It's never shoved in my face, never injected into my experience, never a hassle, pressure, or inconvenience.
2) I'm not out done by people who do pay. In a lot of F2P games, paying gives you inordinate advantages over others. To be on the top, you have to pay. Not so in Glitch. Remember how I mentioned no competition?
3) I pay to express myself. What I can buy in Glitch is clothing, supplies, and community votes, not fundamental changes to the game that let me feel like I'm cheating (though that can be fun sometimes!) and not features that fix things inherently broken in the game design (I see this way too often).
4) I can pay how I want. If I just want to have a constant boost, I can subscribe. If there's that one item that I really really want, I can just buy just that item. With more ways to pay, more people are going to monetize.
AGENCY ACTIVATED
Agency is someone's capacity to effect intentional change: their ability to make meaningful choices and uniquely express themselves.
In Glitch, the entire game is about figuring out what you want to imagine. I happen to enjoy meditation, so I learned all of the meditation skills. Then I realized I wanted a house, so I figured out how to get a housing permit, then how to raise money to purchase a house, then location scouted, and so on. Glitch doesn't tell you what to do, but it gives you a clear if challenging path to do whatever you choose. Don't know what you want to do? There are always quests to fall back on, and failing that, every object in the world has multiple interactions – I've probably only witnessed a fraction in my time.
SELF EXPRESSION
Part of all artistic media is to help us better understand ourselves. In games, we get to test out different actions, realities, personalities, identities, and moralities. In Glitch, not only do you have avatar, house, tower, yard, and butler customization (aesthetic expression), but you can specialize in different skills, collect different items, worship your preferred deity . You can choose to be someone who takes pictures or posts auctions or throws parties or plays minigames (mechanic expression).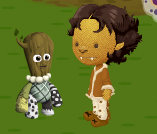 There are several currencies in Glitch: mood, energy, currants, and imagination. You get Imagination (iMG) for doing virtually anything in the game. Whatever you want to do, however you want to do it, Glitch rewards you just for being active in the world. It is the most flexible and all-encompassing system I've encountered, and I think it's brilliant.
It makes whatever you want to do the thing you should do. There is no right path. The best thing you can do in Glitch is be who you want and do what you want.
EMOTIONAL FINGERPRINT
I feel when I play Glitch, and feeling is awesome. The dialogue and writing are hilarious. The scenario (living in the collective imaginations of 11 giants) is bizarre and wonderful. The quests are sometimes silly, sometimes thoughtful, and sometimes I don't know how to feel, which is sort of a cool feeling too. Getting a new achievement makes me feel accomplished (their achievements range from quirkily mundane to so difficult less than a dozen people have them), discovering a new street makes me feel curious and proud and masterful.
You don't get that range of feelings in most games. You don't get the subtler emotions (contentment, meditative focus, relief, calm), and you don't get the variety (kill! explore! kill!). Make your game evocative. Practice affective design.
WHAT'S THE POINT
Yesterday there was a new miniature experience to explore in Glitch, called a Summer Day.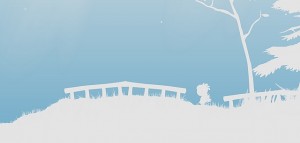 The game left it open to interpretation, inviting you to find your own meaning in walking through the whitewashed world, touching floating sprites and landing on visible (and invisible) platforms.
It was pointless.
But that's what made it brilliant. Here, take this, discover what you will, feel what it makes you feel. Summer Day was a built-in pause, a few moments of reflection, a delightful dose of novelty mixed with the deep appreciation that comes with one-off opportunities. I can't go back there. I did it, saw it, felt it, experienced it, and now it's over. Not everything needs a point or explicit purpose.
CONSTANT EXPERIMENTS
Glitch is always evolving and changing. From their infamous un-launch to features that blow in and out of style, there are always tests going on and the team invites you to participate and respects whatever time you invest. You can tell the product is alive and loved, and that encourages all the more investment and goodwill.
8000 BOTTLES OF BUTTERFLY MILK
Glitch is different. Glitch has resisted all the detrimental shortcuts, the spam, the pop-ups, the pay prompts, the pressure to make things easier, simpler, and more like what's "been proven". It has features that exist simply to elicit joy, wonder, and curiosity.
Despite being a game designer, there are very few games I play for more than a few hours. There has never been a social game that I played for fun.
Glitch is a social game that I've enjoyed for a year and a half, and counting. I have 8000 bottles of butterfly milk.
They're doing it right.
Yesterday I referred to VC's as soulless. Better phrasing would have been: VCs act in accordance with a set of priorities that reduces other people's humanity.
This is what sexism does, it's what racism does. It's not a good thing.
When VCs look at a venture, they want to see numbers – growth trajectories, monetization, ROI. They condense every person at the company and all the nuance of values, goals, and purpose into the exact same box as every other company. We are made identical. Our unique texture is disregarded.
The issue with looking exclusively at those numbers is that to get funding, companies focus exclusively on those numbers – this is the nature of prioritization. And then suddenly it's not just the company's texture that's obliterated – it's the product's too.
And here is what's most problematic. When a product's success is defined only by its numbers, its systems and mechanics are optimized to increase numbers. Not better people's lives. Not solve problems. Not exist for 100 years. Increase numbers.
That means your users become just clicking wallets or convenient billboards… and at that point, well, you've gone and dehumanized your entire player base. People get grouped into cliche target demographics, and optimizing those means catering to lowest common denominator likes and dislikes. Layer after layer after layer of complexity, depth, and humanity is scraped away, until you have a silicon mold product designed for silicon mold clickers to appease silicon valley VCs to whom money isn't a means to an end – it is the end.
The current investment system, through my eyes, incentivizes creating generic, dehumanizing products at the expense of company culture and values, product innovation and human benefit, and in the end, the perception of people as complex individuals.
And when the entirety of the internet treats us like nothing more than mindless click machines – well… how do you think we're going to behave?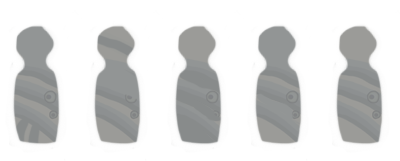 Fixing It
Systemic issues are notoriously hard to fix, but data seems like a good place to start.
Question Our Success Metrics
Right now, these are the most common success metrics I see:
Traffic (Daily Active Users) – This is pure 'how many people play the game' – it encourages flamboyant advertising and extreme spam. It's so short-sighted that most products I know who optimize it turn into mangled, multi-limbed, pop-up plagued monsters.
Engagement (DAU/MAU) – This isn't measuring whether or not a product is good (ethically, I'm defining good as "life-enhancing"). This is measuring whether it's addictive. Whether you can train people to keep coming back to it. Optimizing this encourages products that players become dependent on. That's kind of how abusive relationships work.
Retention (Of players who played on a given day, how many showed up: the next day, a week later, a month later [D2, D7, D30 retention, respectively]) – This can foster the same thing as engagement, but what I appreciate is D30. Most games are designed for quick hit/steep spike curves. Simply acknowledging that you want a game to last at least 30 days is a big step up for a lot of companies. It also encourages a long view – less local maxima and more finding a coherent picture of what players want.
Monetization (ARPU) – Unfortunately, optimizing ARPU means switching monetization tactics. Companies used to just charge players one time for the full and complete experience. Now players get a small fraction for free and are constantly nickeled and dimed every step of the way. Not the best experience.
NPS (Net promoter score: likelihood that a user will recommend product to others) – I actually think NPS is brilliant. NPS measures a product's relevance and impact on a player. People don't recommend bad experiences. They recommend useful, fun, engaging, and exciting experiences. Measuring NPS is what's difficult, and is what's kept it from being a staple.
Creating New Data
The onus is on companies to start measuring more than just quantity. Getting qualitative data normally means surveys, focus groups, user studies. The data is complex, and can take weeks to aggregate and decipher. That's why we need to start finding new ways of measuring how experiences affect people. Why couldn't JOY or REVELATION be metrics? Learning? Compassion? (Financial Security? Marriage Health?)
Until we start creating those metrics, we're never going to design for them, try to improve them. Until we start measuring what makes a good experience – we're just going to be creating spammy, addictive, abusive ones.
Numbers aren't irrelevant or evil. They're vital, and we need to be more responsible with them.
X-posted from the SuperBetter Blog
Two years ago I attended a conference on the emerging field of gamification – or adding game elements to services and applications. Just by giving people a bit of reward, you could incentivize any behavior you wanted — navigating to another page, leaving a comment, learning multiplication.
Others celebrated this silver bullet, but I, as a game designer, wasn't so enthusiastic. The medium I'd dedicated my life to was reduced to basic behavioral response to stimulus, to operant conditioning, to dolphin training. Click. Cookie. Repeat.
These gamification experts extolled all the superficial, short-term psychological hooks from games and none of the meaningful, metaphysical joy and satisfaction produced from playing. They forgot that players are people.
As we designed SuperBetter, we wanted to prove that games are more than just dopamine injections, that players are more than chemical machines.
SuperBetter offers an alternative to gamification. Instead of taking the psychological hooks and operant conditioning from games, we use their deeply satisfying properties – things like agency, emotion, and immediate feedback - to help people do what they really want to do: feel better, reach their goals, connect with others, and live with meaning. We call this a gameful approach to design.
So, what does this look like in practice? Here are a few key differences in how we approach design. Of course, not everyone who calls themselves a gamification company hits all of these points, but too many do.
We can do better.
PURPOSE
GAMIFICATION
Makes you do what companies want you to do
GAMEFUL DESIGN
Helps you do what YOU want to do
THE GAME DESIGN BEHIND THE SCENES
You play games because it's what you want to do. No one is telling you to play, no one is giving you money to play, no one is holding a gun to your head making you play. You're intrinsically motivated. Intrinsic motivation means you take pleasure in the activity itself.
If you don't want to do something, no amount of awards, badges, leaderboards, or points is going to make you do it – not long term, not sustainably.
MOTIVATING USERS
GAMIFICATION
Relies on operant conditioning (reward, punishment)
GAMEFUL DESIGN
Harnesses the good of games (feedback, agency, emotion)
THE GAME DESIGN BEHIND THE SCENES
You don't actually play games for points or badges– those are just progress indicators that help you contextualize your improvements/skill (which is exciting). People love games because they are in control and can affect the world (this is called agency), because they can make meaningful choices and interesting decisions. They play because games are delightful, challenging, and filled with clear goals. Operant conditioning ignores all of those things, and tries to motivate using our most basic human instincts instead of the complex depth that makes us human.
SEE IT IN SUPERBETTER

SuperBetter's core elements — quests, power-ups, bad guys, and allies — help people feel more in control of their lives and capable of changing them (this is agency). Instead of setting goals for you, we let you choose goals that challenge you, and we make sure you're creating a toolbox of ways to spark positive emotions in your life while identifying and gaining control over those things that hold you back.
INTEGRATION
GAMIFICATION
Added to an existing platform, curriculum, or service
GAMEFUL DESIGN
Integrated into design from the ground up
THE GAME DESIGN BEHIND THE SCENES
All games teach. All play and all fun is learning. If the entirety of a system is "Leave Comment, Get Badge" people will learn that very quickly, and once a system is learned, it loses its charm, its fun, its pleasure. Tack on something like badges or leaderboards, and after an initial engagement spike, the system suddenly becomes a transparently irrelevant annoyance – or worse, an unavoidable reason to leave the site/service altogether.
THE REWARDS
GAMIFICATION
Uses extrinsic rewards
GAMEFUL DESIGN
Uses intrinsic rewards
THE GAME DESIGN BEHIND THE SCENES
Rewards only motivate people to get rewards. Here's a true story about extrinsic rewards: A child with a love for music starts playing the piano. Her mother, wanting to encourage her interest, begins rewarding her every time she plays. When the mother stops rewarding, the child stops playing, her initial curiosity and intrinsic desire to play diminished by the reward system.
Lasting behavior change comes from within. Giving someone cash to do something taints the nature of whatever they do. Even if it's something they wanted to do, getting a reward for it decreases intrinsic motivation, and actually makes people less likely to perform the behavior without reward. The moment you give someone a reward, you're decreasing the likelihood of lasting, sustainable change for them.
SEE IT IN SUPERBETTER

Intrinsic reward is a fine line and hugely nuanced. In SuperBetter, when players report actions, we increase their Resilience score. But Resilience isn't a made up thing – it's not just magical, virtual "points" – it's a reflection of a very real, validated principle of psychology. You're rewarded by seeing your progress in an immediate, tangible way, but not by the points themselves. SuperBetter also lets you track changes to your well-being, so over time seeing the difference is its own reward. Most importantly, players are rewarded because as they do these actions, they really do start to feel better and reach their goals.
BADGES/ACHIEVEMENTS/AWARDS
GAMIFICATION
Limited meaning/social context
GAMEFUL DESIGN
Meaningful/customized awards
THE GAME DESIGN BEHIND THE SCENES
But wait – didn't I just say rewards can be bad? There's a difference between celebrating accomplishment ("award") and incentivizing actions ("reward"). This is about the former!
Getting an award is a great feeling – when you've worked for it. When it feels relevant and special to you. When it represents success at something appropriately challenging. There's nothing wrong about celebrating accomplishment; it feels great to be recognized for what you've done, as long as what you've done is actually something worthwhile.
If you go to certain sites you'll find yourself with random badges for seemingly no reason at all, after just clicking through a few pages (and of course, you have to sign up to keep them). Is that satisfying? (No.)
SEE IT IN SUPERBETTER

While we do have a few automatically awarded achievements in SuperBetter, we found the best way to make awards meaningful was to ensure it wasn't a machine giving them to you. Allies have the option to give achievements to their heroes: to create a title and customize the icon and provide a reason/description for the award. When players get awards from friends, it means something unique to them, their relationship, and their actions. It matters.
SOCIAL CONNECTIONS
GAMIFICATION
Tokenizes social relationships
GAMEFUL DESIGN
Creates & strengthens social relationships
THE GAME DESIGN BEHIND THE SCENES
In many social games and social services, gates are put onto mechanics that force you to be viral and connect with other players before you're allowed to continue (for example, you need 3 friends to expand your land in FarmVille). This is tokenizing – or only considering how many connections you have, and not the type, depth, duration, or any number of other facets that make each human relationship unique. Almost every social network game is like this. Even Twitter is like this.
Tokenizing is not actually social. For something to be truly social, the experience of playing has to be different depending on who I'm playing with. Mechanically, social means other people impact the game meaningfully; they're making interesting decisions and expressive choices too, and my game is unique because of their unique contribution to it.
Again, this comes down to remembering that people are people and not numbers in a DAU or CTR graph or mindless click-machines.
SEE IT IN SUPERBETTER

When you invite allies to join you, we ask you to give them a mission – something unique that you need and would be grateful for and something specifically suited to that person's talents. We also ask that you check in – that is, have a heart to heart or face to face conversation with them – at least once every two weeks. These aren't just numbers helping you towards some other purpose; the strength of your relationships matters and has a real and measurable effect on your well being. Each friend is a unique ally.
CHALLENGE AND SKILL
GAMIFICATION
Requires little to no skill
GAMEFUL DESIGN
Trains up skills of players' choosing
THE GAME DESIGN BEHIND THE SCENES
This is closely linked to learning a system – when developing skills is seen as learning and mastery can be either knowledge-based or skill-based. Most services that employ gamification aren't challenging or fun to do. They require no skill. In the tired example of frequent flyer miles, for instance: is it fun to click on a flight scheduler? It is challenging to pick Virgin over Delta? No, of course not.
And believe it or not, we love a good challenge – 80% of the time we're playing, we're failing. And we love it! We like failing, struggling, and utilizing our skills to succeed. We play games because they challenge us. And when they don't? We just stop caring altogether.
SEE IT IN SUPERBETTER

In SuperBetter, YOU choose how you want to improve, and the whole game is about getting stronger. Power Packs are custom tailored to challenges, and focus on different skills across the board: social, physical, emotional, mental. Not challenging enough? Add another Power Pack. Overwhelmed? Take a break, or just do a single move (3 quests, 1 battle, 3 power-ups) a day.
VIRALITY
GAMIFICATION
Promote sharing indiscriminately, constantly, to everyone
GAMEFUL DESIGN
Promote sharing meaningfully, at major moments, to whom it matters
THE GAME DESIGN BEHIND THE SCENES
Gamers are great at tuning out irrelevant information, and if they're constantly spammed with the same canned messages, they're not going to get engaged. Novelty is a huge component of engagement (it's something new to figure out, to learn, to master) and unique content adds value. As much as you can, let players add their own messages, and prompt virality when it matters: when the player has accomplished something difficult, when they've expressed something unique, when they've really made a difference. And don't blast it to everyone if it doesn't apply to them: send it to the people to whom it matters most.
THE BIG IDEAS
Phew! Long post! Those were just a few examples, but I hope they helped clarify the difference between what most people call gamification and what we consider the "right" way to borrow from games (gameful design). Looking over the list, here are the three key bullets I'd pull out next time you go out and try to design a great experience:
Keep it intrinsic
Players are people
Agency, agency, agency
Now go make it gameful :)
One vital thing to designing great games:
Don't forget to get away from the project. There are amazing experiences outside – new scents and sights, colors, sensations, styles, spaces, perspectives, people.
There are opportunities and possibilities you can't imagine until they happen. We live inside the most complex procedural generator in the universe. There's raw inspiration all around you, right beyond the doorway.
If you want other people to feel, feel yourself. Expose yourself to a breadth and depth of emotion. Create vibrant memories you can call on in your design.
I spent the weekend offline, consumed by feelings I could spend the rest of my life trying to capture in a game.
Up and down, better or worse, depression and euphoria. This is your one life.
Live it.
This is the third post in a weekly series on the progress of my latest indie endeavor: Project Aurora. The other two are on Creating a Concept and Making Design Decisions.

Why Prioritization Matters
We will never be able to create exactly the game we hope to make. We will never be able to add everything we want, to iterate as much as we should, or to polish to the extent the game deserves. Life happens.
That's why we prioritize.
Prioritization is incarnating your core to the best extent possible within the constraints of your environment – be they time, money, tools, people, or sanity.
To me, this is the very heart of what makes an indie game an indie game. A product manager would have a very different definition of prioritization, focused on optimizing revenue, engagement, daily active users, marketability, or any number of business related goals over realizing the game's core. Regardless of company size or financing, for me an indie game is one whose creators champion the play experience over (but rarely to the exclusion of) other influences.
Production vs Design
Most schools of thought advocate having the producer and designer be VERY different roles played by VERY different people. A producer is someone who fights for the deadlines, who says 'no', and who protects the product against feature creep and randomization. A designer is someone who fights for the game's integrity, who says 'please', and who protects the user experience against quick fixes and low hanging fruit. Prioritization is the result of their constant battle.
I like playing both roles. It forces me to deeply understand the impact each feature is going to have on user experience and the relationships between those features. It forces me to think on my feet when delays pop up, and be able to point and say, THIS feature is the most important of the three on your plate – do that one; that second one sets the foundation for five other features, but their impact will be virtually null if we lose this moment at the beginning.
Be a responsible designer. Know the impact your decisions will have on workload and deadlines. Learn to prioritize. As Stephen King says, kill your darlings.
So what does this actually look like?
This is another process-that-happens-largely-unconsciously, but here's an attempt to get it down:
Figure out your influences
This step sets the stage, defining the space you have to work and what you plan on doing there.
Influence is just a broad term for anything affecting your priorities:
Things you want to accomplish with your game (Goals)
Things that hold your game back (Constraints)
Here's a list of some of my major influences, and their order of importance.
December 10th Deadline – This is the GDIAC showcase for my awesome Cornell team. If the game isn't done by then, they don't pass.
Affective Design – The core of the game. Making people feel curiosity, wonder, solace, and smallness.
Team's Technical Capacity – We've got two MEngs, one of which knows Xcode, and two undergrads. There's going to be a steep learning curve.
Usability/General HCI – This is an umbrella for several goals: no text, quick to complete, holistic aesthetics (audio, visuals, narrative, gameplay all mesh together)
iPad's Processing Power – As much as I want this to be beautiful, there are only so many particles or simulations the iPad can handle at a time.
Figure out your features
You've got to be prioritizing something, right? If you've already got a concept doc, you're set. If not, starting from the shiny ideal game in your head, mind the goals and constraints and come up with a reasonable feature set.
Here's a few groups of features from Project Aurora:
Interactions: Walking, Swimming, Calling, Activating, Collecting
Usability: Tutorial, Touch feedback
Aesthetics: Aurora Borealis, Flocking Shards, Light rays, Binaural score, Dynamic shard sounds, Audio filters unique to location, Mountain top moment
Figure out your feature impact
This is my baseline for prioritization.
How much is this feature going to impact the user experience? I usually average effect and frequency with some fudging. Frequency is how often the user engages with the feature, and effect is how much the presence (or absence) would affect them.

| | | | |
| --- | --- | --- | --- |
| FEATURE | FREQUENCY | EFFECT | IMPACT |
| Walking | Very High | Medium | Very High |
| Swimming | High | Very High | Very High |
| Calling | Medium | High | High |
| Activating | Medium | Very High | High |
| Collecting | Medium | Very High | High |
| Tutorial | Low | Very High | Medium |
| Touch feedback | Medium | High | High |
| Aurora Borealis | Very Low | Very High | Medium |
| Flocking Shards | Very High | Medium | Medium |
| Light rays | Low | Very High | Medium |
| Binaural score | Low | Medium | Medium |
| Dynamic shard sounds | Medium | Medium | Medium |
| Audio filters unique to location | Medium | Low | Low |
| Mountain top moment | Once | Extremely High | Very High |
NOTE: This is a rigid structure, and I tend not to think quite so concretely. For instance, even if I have several low impact (but very cool) features, I will try to highly prioritize at least one. To me, those tiny details speak volumes about our craft. While not everyone will notice those additions, their absence, I strongly believe, is always felt.
Figure out the effort required
In college, this was called the "Awesomefort" score, and I've stuck with it since. If we think of Impact as "Awesomeness" and dev requirements as "Effort", it's pretty self explanatory (and superior to the "Effsome" score, which got us some funny looks).
This doesn't normally change my priorities, but occasionally you'll be able to nix a low impact/high effort feature, or realize that you can do five low impact features for the price of one medium.

| | | | |
| --- | --- | --- | --- |
| FEATURE | IMPACT (Awesome) | COST (Effort) | PRIORITY |
| Walking | Very High | Low | P1 |
| Swimming | Very High | Medium | P1 |
| Calling | High | Low | P1 |
| Activating | High | High | P2 |
| Collecting | High | High | P2 |
| Tutorial | Medium | Medium | P2 |
| Touch feedback | High | Low | P1 |
| Aurora Borealis | Medium | High | P3 |
| Flocking Shards | Medium | Medium | P3 |
| Light rays | Medium | Medium | P3 |
| Binaural score | Medium | Medium | P3 |
| Dynamic shard sounds | Medium | Medium | P3 |
| Audio filters unique to location | Low | High | P4 |
| Mountain top moment | Very High | Medium | P1 |
Figure out your feature dependencies
In the sample list, I only had room for "walking" – but this is actually the root feature of several others: running, idling, trudging, and stopping. None of the latter features can exist without walking, so I know walking has to be prioritized first. Revise your list with dependencies in mind.
Work with your deadlines
Deadlines, for the most part, shouldn't matter. If you know your priorities, then you know what needs to be done in what order, and it's just a matter of figuring out how much of your process you can get through by what date.
There might be some instances where you'd rather have features Y and Z complete for a beta and leave higher priority X until it can be fully functional and polished for a later milestone. I tend to think of that more as "temporary reprioritization" though – and stay away from it when possible. That's the first step down the long and troubled path of randomizing your devs.
Adjust for the bumps
If we suddenly realize that our walking algorithm causes the game to lag to 4 fps, we have a problem. Is it more worthwhile to spend three weeks fixing it, or nix walking altogether in favor of having a swimming only game? What about two weeks? One? As a designer, you get to draw the line.
Phew! TL;DR
TL;DR – Here's all the factors I consider when prioritizing features:
Project Goals: What features best accomplish the goals?
Project Constraints: What features are realistic given the time, money, people, tools, and sanity we have.
UX Impact: How much will feature's presence or absence affect the user.
Dev Cost: How much effort is it going to take to implement?
Dependencies: What features does this unlock? Or what are its prerequisites?
Deadlines: Should we put off this big feature in favor of having something more stable for a milestone?
Thanks!
Much love to everyone who's encouraged me to keep this up. Next week is going to be on project management. Stay tuned!