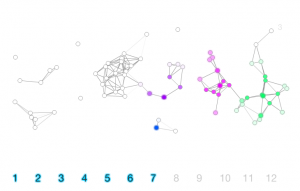 Role
: Designer, Prototyper
Company
: Social Chocolate (now SuperBetter Labs)
Site
:
http://www.superbetterlabs.com
Released
: March 2011
Platform
: Flash
Concept
: There are secrets to discover in this tiny microcosm. Bonds grow and fade, color lances across connections, and nodes wander with the wind. How can you affect it, what does it mean, and what will you leave behind when you find it? This toy was designed to convey science through a purely systemic approach. There's no overt narrative, no setting, no characters. Meaning is gleaned purely through interaction and mechanics, and the wealth of interpretations players leave behind when they complete the experience is enlightening.
Design Notes
: The Social Chocolate puzzle was designed to teach visitors the science behind our company, elegantly and (of course!) through a game. We found that not only did it drastically increase the time visitors stayed on our site, but that it encouraged constructive, positive commenting at a much higher than average rate (because they had to earn the privilege to comment, and the work was - usually - rewarding). We were surprised by the variety of interpretations that players devised, and what intelligence was attributed to the very simple (but emergent) behavior of the nodes. Another example of the power of minimalism and ambiguity.