Posts Tagged '5min'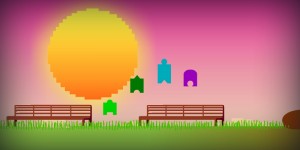 Role: Designer / Musician
Team: Chelsea Howe, Michael Molinari
Website: http://www.to-what-end.com
Dev Summary: A browser game created in Flash over 48 hours in Spring 2012
Concept: "To What End" explored player values, evocative ai, and minimal narrative. 5 puzzle pieces each quirky in their own way start the journey together, but the end of the journey is up to the player. With a limited amount of time, players can choose to stick together or sacrifice and move forward.
On The Web:
Design Notes: To What End was created in 48 hours for the Global Game Jam 2012, San Francisco.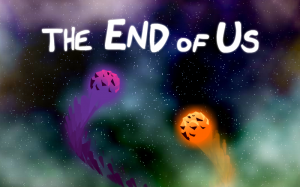 Role: Designer / Musician
Team: Chelsea Howe, Michael Molinari
Website: http://www.the-end-of-us.com
Dev Summary: A browser game created in Flash over 48 hours in Spring 2011
Concept: "The End of Us" was designed to evoke friendship, attachment, and affinity without overt narrative. The orange comet's behaviors – introducing itself with a walloping hello, then running away can-you-catch-me style, circling around you for attention or chasing after the stars (what do those do, anyway? Do you just want them because Orange does?) – are intended to endear. It might not arise directly from the actions (Orange spends a non-trivial amount of time bashing into you after all) but emerges from the familiarity of friendship, good and bad, and the hollow that arises after one-to-one attention vanishes, permanently, for whatever reason.
As you grow and age and eventually start to fade alongside your friend, you come upon an asteroid belt that chips away at both of you. Your final (only?) choice in the game is who will take the fall, and who will have to suffer a solo existence after.
On The Web:
Role: Designer / Programmer
Team: Melissa Fuss, Chelsea Howe, Carson Kjep, Lane Lawley, Sam Roden
Website: http://quixote.manojalpa.net
Dev Summary: A complete PC game created with Gamemaker over 48 hours in Spring 2010
Concept: Quixote is a non-textual, single button game that takes only five minutes to complete. Based on the Game Jam theme of deception (and additionally 'Rain, Spain, Plain'), the game follows Don Quixote and Sancho Panza through the Spanish countryside and, if you successfully destroy the windmills, Quixote's own skewed reality. As Sancho Panza, you can command Quixote to charge; each successful hit to a windmill blade reinforces Quixote's self deception, and the art of the game slowly morphs over time into the elegant and famous style of Pablo Picasso.
[Gallery not found]