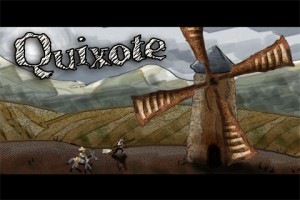 Role
: Designer / Programmer
Team
: Melissa Fuss, Chelsea Howe, Carson Kjep, Lane Lawley, Sam Roden
Website
:
http://quixote.manojalpa.net
Dev Summary
: A complete PC game created with Gamemaker over 48 hours in Spring 2010
Concept
: Quixote is a non-textual, single button game that takes only five minutes to complete. Based on the Game Jam theme of deception (and additionally 'Rain, Spain, Plain'), the game follows Don Quixote and Sancho Panza through the Spanish countryside and, if you successfully destroy the windmills, Quixote's own skewed reality. As Sancho Panza, you can command Quixote to charge; each successful hit to a windmill blade reinforces Quixote's self deception, and the art of the game slowly morphs over time into the elegant and famous style of Pablo Picasso.
no images were found
Design Notes
: Quixote was created in 48 hours for the Global Game Jam 2010, Rochester.