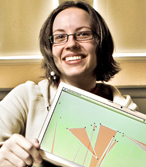 Chelsea Howe just finished releasing SuperBetter for web and mobile as Director of Design at SuperBetter Labs (formerly Social Chocolate). This year, she was named one of Fast Company's 100 Most Creative People in Business and won Microsoft's WIG Rising Star award.
Previously, Chelsea worked at Zynga as a Designer on FarmVille. Prior to her social gaming experience, she co-founded Proper Walrus to develop quirky, experimental indie games like Tipoli. She also worked at ActionXL designing and producing motion PC and mobile games, and at Cornell University as a game design instructor for the outreach portion of an NSF-funded research grant. She's run the San Francisco Global Game Jam since its inception and has spoken about game design at GDC, UC Santa Cruz, Nokia, RIT, and elsewhere. Chelsea graduated summa cum laude from Cornell in May 2009 with a self-made degree in Interactive Multimedia Design and minors in Information Science, Game Design, and Computing in the Arts, distinction in all subjects. For a full resume, find her on LinkedIn.
Chelsea's passion lies in expanding the way games are played, perceived, and understood. In addition to designing and producing games, she also researches Human-Computer Interaction applications to game design. Her honors thesis, Interactive Multimedia Design, investigated optimal experience theories and the emotion-exacerbating effects of rhythm.
Contact:
Phone: 33O 554-662I
Email: howe.chelsea gmail
Twitter: @manojalpa