Posts Tagged 'programmer'
Role: Designer / Programmer
Team: Melissa Fuss, Chelsea Howe, Carson Kjep, Lane Lawley, Sam Roden
Website: http://quixote.manojalpa.net
Dev Summary: A complete PC game created with Gamemaker over 48 hours in Spring 2010
Concept: Quixote is a non-textual, single button game that takes only five minutes to complete. Based on the Game Jam theme of deception (and additionally 'Rain, Spain, Plain'), the game follows Don Quixote and Sancho Panza through the Spanish countryside and, if you successfully destroy the windmills, Quixote's own skewed reality. As Sancho Panza, you can command Quixote to charge; each successful hit to a windmill blade reinforces Quixote's self deception, and the art of the game slowly morphs over time into the elegant and famous style of Pablo Picasso.
[Gallery not found]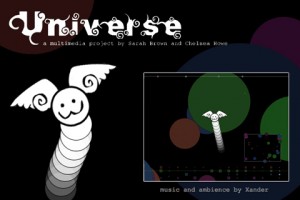 Role: Designer / Programmer / Artist
Team: Sarah Brown, Chelsea Howe
Download: http://universe.manojalpa.net
Dev Summary: A complete PC, Mac, & Linux game created with Processing over one month in Spring 2009
Concept: Use the arrow keys to navigate planets, leap into space, or land on colorful moons of unique timbre. Stars represent musical notes to collect and add to your sequencer, which appears at the bottom of the screen. At the top of the screen, the current pan is shown for each timbre, which can be adjusted by landing on respective planets. If a certain timbre's sequence is going poorly, land on a black hole to start erasing the notes in the current timbre. Lost? Use Spacebar to access the minimap.

While working at actionXL I created a series of small game 'demos' that showed off the various uses of their PC motion controller (tilt, direction action, indirect action or gesture). All games are available to download at www.actionxl.com but require an actionXL wired motion controller to play.
Stucker: In Stucker, players use a 'lasso' motion to swing a sticky, elastic alien up into the air. Stucker tries to find flower petals as he climbs to ever higher heights, gaining stats boosts and a greater appreciation for earth's natural beauty.
Burst or Bust: Valius Coron owns a hot air balloon, and attached to that air balloon is a three story tall wooden stake he uses to pop monstrous, rabid balloon monsters that are threatening to take over the city. Tilt to move Valius' balloon and then flick the controller down to 'pop' the monsters before they develop mouths and consume you.
Factory: There's no easy win when you have to sort mail. Use the motion controller to move the vertical and horizontal treadmills that separate the packages from the trash.
Breakout: Classic game with a motion twist. Use the controller to move your paddle across the screen.